How to Use Tags in Shopify?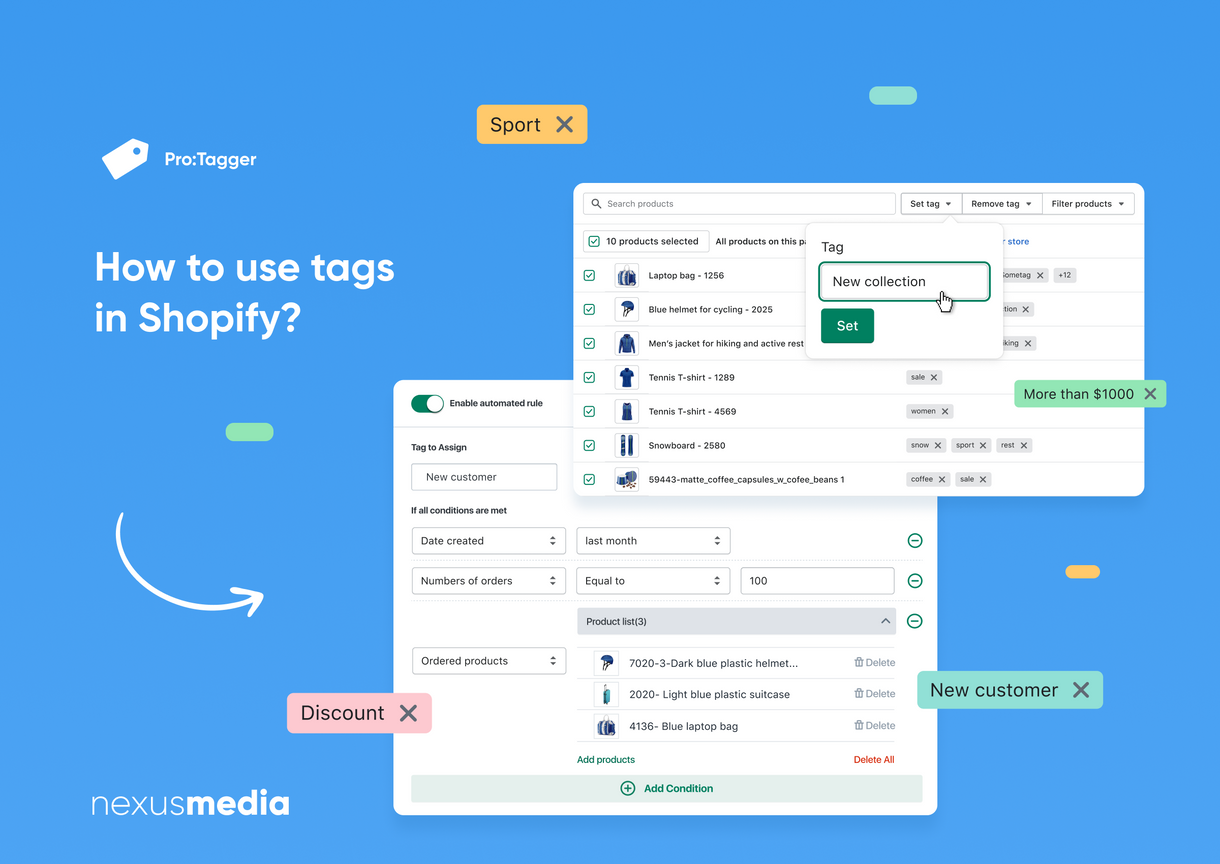 What are Tags in Shopify?
Shopify tags are labels you assign to products, customers, orders, draft orders, blog posts, and transfers, They help create a systematic structure to organize your Shopify store. A tag can be anything from a word, or a short phrase, like 'Sale,' 'New Arrival,' or 'Summer Collection.' Think of them as digital stickers attached to items for easy identification. Your online store search also uses tags to categorize products and organize customer search results.
Types of Tags in Shopify
Shopify tags are universal, allowing you to group, search, filter, and apply bulk changes across multiple sections:  Products, Transfers, Customers, Blog posts, Orders, and Draft Orders. Each section can have its unique set of tags, which are not duplicated across other sections. 
Product Tags
They allow you to filter products by tag on the Products and Inventory pages. These tags can serve as selection criteria when building an automatic collection or as filters when creating a menu. All the tagged products will appear in the search results if a customer searches for a term matching a tag.
Transfer Tags
They help you filter transfers by tagging on the Transfers page, providing a streamlined overview of product transfers.
Customer Tags
These tags allow you to create a customer segment on the Customers page, filtering customers with the same tag. This can significantly enhance your customer management and targeted marketing efforts.
Blog Post Tags
They allow you to filter blog posts by tag on the Blog posts page, aiding in content organization and reader navigation.
Order Tags
They help you filter orders by tag on the Orders page, making order management more efficient and organized.
Draft Order Tags
When you create an order from a draft order, the draft order tags are carried over and added as order tags. This ensures the seamless transition of information from draft to finalized orders.
Benefits of Using Tags in Shopify
There are many advantages to using tags in Shopify. Depending on the situation, they may differ, but we have collected the main benefits  in the list:
Using tags in Shopify provides a multitude of advantages, including:

Enhanced Organization: Tags improve your store's control, simplifying the management of products, orders, customers, and blog posts.

Improved Searchability: You can quickly find the items in your store with tags.

Automated Collections: Tags facilitate the creation of automatic collections where products with similar tags are grouped.

Advanced Filtering: Tags support intricate filtering, letting you view specific subsets of your products or orders.

Marketing and SEO: Tags boost your Shopify store visibility on search engines and enable more targeted marketing strategies.
How to Create and Assign Tags in Shopify
You can add a tag when you create or edit products, transfers, customers, blog posts, orders, or draft orders.
Creating Tags in Shopify
Creating tags in Shopify is a straightforward process. You can add tags in your Shopify admin panel while creating or editing a product, customer, or order. 
Steps:
Open the specific product, transfer, customer, blog post, order, or draft order details page in Shopify.

In the Tags section, enter a tag you want to add or select from the existing one. If you enter a new name for a tag - it will be created automatically for future use in the section.

Click Save.
Assigning Tags in Shopify
Assigning tags in Shopify can be done manually or automatically using apps like "Pro:Tagger ‑ ​bulk & auto tags." This app allows you to set up flows or automation to assign or remove tags from your products or customers in bulk. For instance, you can set rules to auto-tag customers by specific conditions you choose.
Best Practices for Using Tags in Shopify
Keep Tag Names Consistent
Consistency in tag names is crucial for effective filtering and organizing. For instance, follow one naming pattern across all products if you use color as a product tag.
Use Tags for Organization
Tags can be a useful organizational tool. For example, you can tag customers who frequently purchase a particular product, making it easier to create targeted marketing campaigns.
Use Tags for Marketing and SEO
Tags can be leveraged for marketing and SEO. Shopify tags filtering feature can create SEO-friendly URLs, boosting your store's visibility on search engines.
Re-use Shopify tags
You can save time creating reusable Shopify tags beforehand. Reusing tags lets you reuse other product badges, promotional assets, discounts, and collections throughout your store.
Advanced Techniques for Using Tags in Shopify
Filtering Products by Tags
Filtering products by tags can enhance your customers' shopping experience. The "Pro:Tagger ‑ ​bulk & auto tags" application allows you to bulk tag products and customers in two clicks, facilitating efficient filtering.
Creating Dynamic Collections with Tags
You can create dynamic collections in Shopify using tags. This method is beneficial for showcasing specific groups of products to your customers. You may automatically group customers using Pro:Tagger ‑ ​bulk & auto tags. and show them specific product collections organized by tags. 
Conclusion
Shopify tags are a universal tool to simplify store operations and enhance the shopping experience for your customers. Tags bring height flexibility to store management and open new ways for marketing, product targeting, custom audience analysis, and many more.
By employing the Pro:Tagger application, you can increase the positive effect and automate tag assignment based on various conditions, edit tags in bulk, and apply automation rules to past and upcoming events, optimizing your store's organization and enhancing your SEO and marketing efforts.
Happy tagging!
Stay tuned with Nexusmedia.