Top 5 Best Shopify Live Chat Apps for 2023 to Supercharge Your Store.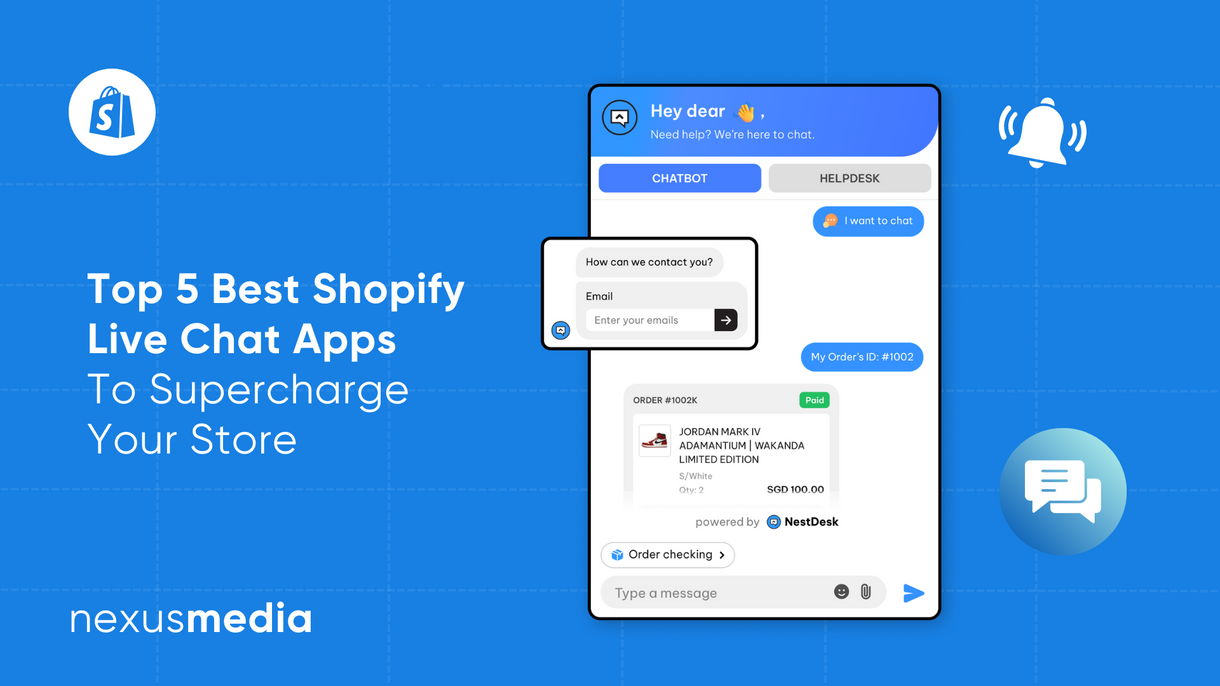 In the competitive world of e-commerce, providing exceptional customer support is vital for building trust, boosting conversions, and increasing customer loyalty. And one of the most effective ways to deliver real-time assistance and engage with your online customers is through live chat apps.
If you're running your store on Shopify, you're in luck! Shopify offers a library of live chat apps to enhance your customer support experience. In this blog post, we'll explore the five best Shopify live chat apps that can take your customer support to the next level.
What is Shopify live chat?
Shopify live chat refers to the functionality provided by various apps or integrations that allow online store owners to engage in real-time conversations with their website visitors or customers.
It enables businesses to offer instant support, answer questions, provide guidance, and resolve issues promptly. Shopify live chat apps typically provide a chat widget that can be integrated into the website, allowing visitors to initiate conversations, while store owners or support agents can respond and interact directly through a chat interface. 
This feature helps enhance the customer experience, build trust, and boost sales conversions by providing timely and personalized assistance.
Features to look for in the best live chat apps
When selecting the best live chat app for your Shopify store, consider the following essential features:
Easy setup
Look for a live chat app that seamlessly integrates with your Shopify store. It should be easy to install and set up without requiring extensive technical knowledge or coding.
Customization options
The app should offer customization features that allow you to match the chat widget's appearance with your store's branding. Customizable chat window colors, fonts, and logos help maintain a consistent visual experience for your customers.
Real-time messaging
Ensure the live chat app provides instant messaging capabilities, enabling real-time conversations with customers. The app should support simultaneous chats, allowing your support agents to handle multiple inquiries simultaneously.
Mobile accessibility
Consider an app that offers mobile compatibility or a dedicated mobile app. This feature allows you or your support team to respond to customer inquiries on the go, ensuring prompt and efficient customer service.
Chat transcripts and history
The app should provide the ability to save chat transcripts and access chat history. This feature is valuable for reference purposes, enabling you to review previous conversations and maintain continuity in customer interactions.
Chatbot integration
Consider an app that allows integration with chatbots. Chatbots can handle basic customer queries and provide automated responses, freeing up your support agents' time to focus on more complex inquiries.
Reporting and analytics
A good live chat app should offer reporting and analytics features. This allows you to track key metrics such as chat volume, response time, customer satisfaction ratings, and other performance indicators. 
These insights help you measure the effectiveness of your support team and identify areas for improvement.
Integration with other tools
Check if the live chat app integrates with other tools you use for customer support, such as helpdesk software or CRM systems. Seamless integration can streamline your support processes and provide a unified view of customer interactions.
By considering these essential features, you can select a live chat app that aligns with your business needs and provides the necessary tools for delivering exceptional customer support on your Shopify store.
5 Best live chat apps for Shopify
NestDesk
NestDesk is an all-in-one customer service platform designed to increase sales and streamline support across multiple stores and channels. 
With features like live chat, helpdesk, chatbot, and more, NestDesk centralizes support conversations, offers personalized sales opportunities, and delivers 24/7 proactive customer service. Utilizing NestDesk, you'll create happier customers, boost sales, and take your customer service to the next level. 
Key features
Multichannel integration:

Connect with Live Chat and Facebook Messenger, bringing all messages together in one convenient location.

Effortless self-service: Scenario-based chatbot, Pre-defined help desk & Order tracking right in the chat widget.


Product recommendations:

Tag products in the conversations and make customers happy with the right product.

Draft orders and checkout links:

Create draft orders and instantly send checkout links to customers directly from the chat inbox, streamlining the purchasing process.

Manage customer conversations:

Tags and ticket assignment, Automated Responses using macros, Private notes to communicate important information to other agents.

Real-time notifications:

Increase responsiveness with browser and email notifications. 

Mobile accessibility:

Stay connected and productive wherever you are with NestDesk mobile.

Performance insights: Gain comprehensive insights into conversations, revenue, and store performance, empowering you to monitor progress and make informed decisions based on data.

Pros:
User-friendly interface

Help desk, FAQ and Chat bot to shorten support time and enhance customer experience

Order tracking in the chat widget, reducing the customer's need to ask agents and get the instance status of the order 

Centralized inbox, various app integrations

Real-time support and sales

Enhance efficiency: Streamline support processes, allowing agents to handle multiple chats simultaneously and resolve queries more efficiently

Mobile accessibility

Branded chat widget customization
Cons:
NestDesk currently only integrates with Shopify. Integration with other eCommerce platforms is planned for the future.
Pricing
NestDesk offers a completely free pricing plan. Here's what you can enjoy with NestDesk's free plan:
Unlimited Conversations:

Consolidate customer messages from different stores and channels into a unified dashboard, simplifying your customer support workflow.

Unlimited Agents:

Scale your business team effortlessly and enhance productivity by leveraging your existing agents effectively.

Unlimited Sales:

Transform every customer interaction into a real-time sales opportunity. Offer support while simultaneously promoting and selling your products or services.
Who is NestDesk for?
This feature-rich customer service software is specifically tailored to meet the business needs of live chat functionality. That is why NestDesk is an ideal choice for small and medium businesses seeking to enhance customer support and drive sales, as it offers a robust set of features and is completely free of charge. 
Willdesk
Willdesk is a cutting-edge customer engagement solution designed to enhance online interactions and support businesses in delivering exceptional customer service. With its real-time messaging functionality, Willdesk enables businesses to engage with website visitors, answer their queries, provide personalized assistance, and address concerns promptly. 
This versatile platform offers seamless integration with websites, allowing businesses to effortlessly communicate with customers and create meaningful connections.
Key features
Self-service widget:

Integrate with Order Tracking and FAQ, provides self-support, and lets customers resolve common issues.

Boost sales through live chat:

Convert valuable visitors into buyers through intimate live chat.

Manage all channels in one inbox:

Centralize customer tickets in one feed, including Live chat, Email, Whatsapp, and Messenger.

Completed customer index:

Clearly understand the customer and all their interactions with your business, providing personalized service to boost sales through CRM.

Multi-platform integrations:

Integration of multiple eCommerce platforms and marketing products.
Pros
24/7 support that enables real-time assistance, resulting in enhanced customer satisfaction and loyalty.

Streamlines support processes allow agents to handle multiple chats simultaneously and resolve queries more efficiently.

Visitor tracking and customization features to provide personalized experiences

Easy integration
Cons
High price: The pricing may be relatively high for small Shopify merchants, potentially impacting the overall cost-effectiveness.

Integration issues: Although the app offers many integrations, it seems to have a few problems with that. For instance, some customers reviewed that they encountered technical issues while connecting Willdesk with their Outlook.
Pricing
The price range for this app is from $0 for the Free plan to $99.9/month for the Advance plan.
Free: Full features with limited usage

Basic: $9.90/month

Pro: $29.90/month

Advance: $99.90/month
Who is Willdesk for?
Willdesk is designed for businesses of all sizes and industries. However, the free plan does not offer fully accessible features, so you might need to upgrade your plan. Willdesk might be more suitable if you have a large volume of support tickets and need a more powerful live chat app.
Tidio
Tidio Live Chat is a popular Shopify app that offers a comprehensive set of features to enhance your customer support efforts. With Tidio, you can engage with customers through live chat, chatbots, and email. The app's AI-powered chatbots can handle basic customer queries, freeing up your support team's time. 
Additionally, Tidio's mobile app ensures that you get all customer inquiries, enabling you to respond promptly from anywhere. With its sleek design and customization options, Tidio Live Chat seamlessly integrates into your Shopify store.
Key features: 
Unified communication:

Consolidate live chat, e-mail, and Messenger in a single platform.

Customizable live chat:

Customize the live chat interface to align with your brand image, free of charge.

Order Management:

Shopping cart's preview, Order history, Recommend products, Cancel orders, Refund orders, Add coupon codes, etc.

Chatbots:

Use chatbots to automate your conversations, sales, and processes. Ready to go with a few clicks.

AI Response Bots:

Automate up to 47% of your conversations based on the most common questions asked by your clients.

Ticketing:

Solve clients' problems with ease. Keep issues tracked, tagged, and prioritized correctly. Make clients happy and team efficient.

Departments:

Allow clients to talk directly to the right person. From the right division, with the right knowledge to solve the issue. Notify only the relevant operator.

Robust analytics:

Keep track of your team's performance. Make decisions based on reliable data.

Various integrations:

Seamlessly integrate with various third-party software solutions.
Pros
Enhanced tracking and insights: Access a comprehensive range of tracking and insight features 

Automation and bot template

Intuitive user interface: Smart and user-friendly interface that simplifies navigation and improves usability.
Cons
High price: The pricing may be relatively high for Shopify merchants, potentially impacting the overall cost-effectiveness.

Limited integration with Shopify and other eCommerce platforms: The integration with Shopify and other eCommerce platforms may not be as seamless or comprehensive as desired, potentially limiting functionality and compatibility for certain users.
Pricing
Tidio offers a wide pricing range including:
Free: A 7-day trial for all features. After the trial, you will have a free forever plan. 

Communicator plan: $25/month

Chatbots plan: $29/month

Tidio+ plan: $394/month
Who is Tidio for?
Tidio is an ideal choice for beginners on Shopify with a free plan. However, your access and features will be limited. If you are looking for live chat solutions that provide plenty of features and automation for customer support and marketing, Tidio may be a suitable one.
Gorgias
Gorgias is a powerful customer support app combining live chat, helpdesk, and automation to streamline customer interactions. 
With its deep integration with Shopify, Gorgias allows you to access order details, shipping information, and customer profiles within the chat window, enabling your support agents to provide personalized assistance. 
The app's automation features help you automate repetitive tasks and provide quick responses, ensuring efficient customer service. Gorgias also offers a comprehensive knowledge base and ticketing system to manage customer queries effectively.
Key features
Centralize 1:1 interactions:

Prioritize email, chat, voice, SMS, WhatsApp and social comments/DMs in one feed

Access order history:

Get full customer context before answering, with order and conversation history

Manage order in the chat:

View, edit, and cancel Shopify orders without leaving the Gorgias customer view

Automate your work:

Automation add-on, Rules, Macros, Help Center.

Measure and improve your support:

Track team activity and support metrics on live dashboards

Self-service menus:

Instantly answer shopper questions with self-service menus — no agent required
Pros
Omnichannel Support: Gorgias offers a unified platform for multiple channels, including email, live chat, social media, and phone

Auto reply and Macros: Automate repetitive tasks and create macros for common responses

Integration Capabilities: Gorgias integrates with various e-commerce platforms, such as Shopify and Magento, as well as other third-party tools

Customer Insights: Gorgias provides valuable customer data and insights, including order history, previous interactions, and customer segmentation.
Cons
Very high price: Gorgias is a premium customer support solution, and the pricing might be a factor for businesses with limited budgets or smaller customer support teams.

Difficult to use: Gorgias offers a comprehensive set of features, which may require some time for new users to learn and navigate the platform effectively. Some customers also reported that they have difficulty using the app or had trouble dealing with subscriptions.

No chatbot available
Pricing
Gorgias offers four different plans, starting from $10/month to $900/month, including: 
Starter plan: $10/month

Basic plan: $60/month

Pro plan: $360/month

Advanced plan: $900/month
Besides, if your ticket volumes exceed the limit, you will be charged additional fees per ticket.
Who is Gorgias for?
Gorgias is suitable for e-commerce businesses and customer support teams that prioritize providing excellent customer service across multiple channels. 
It is especially beneficial for businesses that handle a high volume of customer inquiries and require tools for automation, integration with e-commerce platforms, and collaboration among support agents.
Richpanel
Richpanel is a powerful customer engagement tool designed to revolutionize online interactions and support businesses in delivering exceptional customer service. With its real-time messaging capabilities, Richpanel empowers businesses to engage with website visitors, resolve queries, provide personalized assistance, and address concerns promptly. 
This innovative platform seamlessly integrates with websites, enabling businesses to communicate effortlessly with customers and create meaningful connections. By harnessing the capabilities of Richpanel Live Chat, businesses can enhance their customer service efforts, increase conversions, and drive overall business growth.
Key features
Multichannel support:

Manage email, live chat, sms, phone and social media from one place

Agent console:

Resolve tickets faster with order data and personalized customer data inside the inbox

Automation & Assignments:

Connect customers with the right team and agent. Automate all redundant work and spend time where it matters

Reporting & analytics:

Insights like revenue from support, speed of resolution, popular topics, CSAT, agent performance and more

Integrations:

Boost rep productivity and run cool workflows with multiple integrations

Customer timeline:

Get a unified view of all order, conversations and website visit history

Powerful Self-Service portal:

Order management, returns and exchanges, branded Help Center, custom Workflows, subscriptions management
Pros
User-friendly interface

Multi language customization

Various Shopify apps integrations
Cons
The cost of Richpanel may be a consideration for businesses with limited budgets or smaller customer support teams.

No chatbot available
Pricing
Richpanel has three plans for customers to choose from, namely:
Starter: $29/month

Regular: $49/month

Pro: $99/month
The app also offers self service add-on billing from $100/month and charges additional fees for additional users per month.
Who is Richpanel for?
Richpanel is designed for e-commerce businesses and customer support teams seeking to deliver exceptional customer service and enhance their overall customer experience. 
It is particularly suitable for businesses that value real-time communication with website visitors, personalized interactions, and streamlined support processes across various channels.
Choose the best fit for your business
When it comes to selecting the best live chat app for your Shopify store, it's important to consider the unique needs and requirements of your business. To make the right choice, evaluate the specific needs of your customer support strategy, your team's capabilities, and the level of customization and automation you require.
Ultimately, the goal is to enhance your customer support experience, provide real-time assistance, and engage with your customers in a way that boosts satisfaction and drives conversions. By selecting the right live chat app, you can deliver exceptional customer service, build lasting relationships, and set your Shopify store apart from the competition.